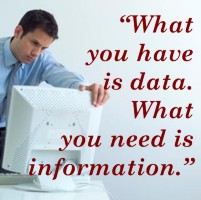 Too much data and not enough answers?  
D. Lawton Associates can connect to your databases and develop reports, perform data conversion or special one-time analysis.
Many businesses have data in many different places. You may have a data warehouse that your department connects to that includes a canned set of reports. Beyond these reports, you have your own ideas on what information you would like to analyze and in what way.
We have extensive experience in using off-the-shelf and custom applications to connect  existing systems and provide you the analysis needed to get your job done. Our staff can work with you to design the report, and then our team of developers can work with your IT people to get connected and release your set of custom reports.
Review our Supported Software page to find out what tools we use for reporting and data analysis.